Rank Calculation
Points of each participant from all championships are entered into the rank table. Rank is overall: Puller Running + Puller Jumping. If sportive pair (handler and dog) performs only in one discipline, they should start trainings and perform in both disciplines to be presented in the Rank.

Rank calculation consist of two parts:
Basic points 
Points are given only for awarding places provided that sportive pair performed in both disciplines:
1 place – 31 points
2 place – 22 points
3 place – 13 points
Also to the result add next extra points depending on the championship category and quantity of participants on it:
regional championship from 25 participants +2 points
regional championship from 35 participants +3 points
regional championship from 45 participants +4 points
national championship +5 points
international +10 points
retreat championship (other city, other region, other country) +5 points to the general result.
Final points
Awarded points are calculated by formula:

Basic points x (times/multiply) points awarded in discipline ÷ (divide) National record of these discipline. The calculated value rounded to the whole number.
If National record didn`t fix earlier in that way on the first championship of the year, the result should be the maximum points (points of the winner).
If on the championship National record was broken, then new result calculates from next championship.
Title of the championship – for first one enter record for each category (If no – leave empty) and championship status. For next championships enter only status
Championship status (help in the table) –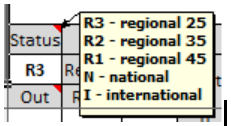 Information about sportive pair 
Results – status of championship, place and result in running, place and result in jumping
For championship status is a help in the table formula

Formula – all are set up and work automatically. Records for next championship are up date automatically

Overall outcome – after filling the all tabs you only have to sort data by the points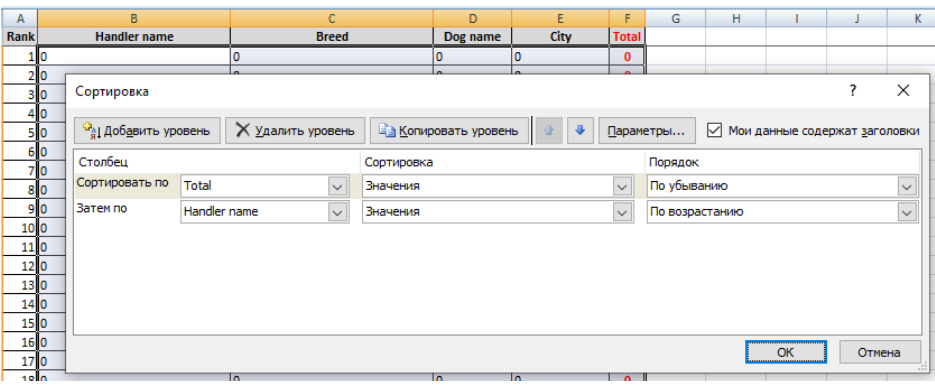 The most important – do not delete anything to keep formula working!!!
See the entire rating of Ukraine
See the entire ranking of the Czech Republic
| № | Handler name | Country | Breed | Dog name | Total | 2020 | 2019 |
| --- | --- | --- | --- | --- | --- | --- | --- |
| 1 | Иванес Павел | Ukraine | Добреман | Джессика | 315 | 39 | 276 |
| 2 | Бебко Сергій | Ukraine | Фокстер'єр | Бада | 287 | | 287 |
| 3 | Головачова Катерина | Ukraine | Німецька вівчарка | Хельга | 211 | 25 | 186 |
| 4 | Малютяк Віталій | Ukraine | ДРТ | Містер Бутч | 192 | | 192 |
| 5 | Кучерява Юлія | Ukraine | Добреман | Ахілла | 191 | | 191 |
| 6 | Шипельський Віталій | Ukraine | Малінуа | Leia Solo | 191 | | 191 |
| 7 | Кушниренко Сергей | Ukraine | ПРТ | Вента | 170 | 10 | 160 |
| 8 | Науменко Наталія | Ukraine | Малінуа | Шкет | 167 | | 167 |
| 9 | Гайова Євангеліна | Ukraine | АСТ | Айза | 165 | 68 | 97 |
| 10 | Шпигун Владимир | Ukraine | Бордер колли | Веста | 152 | 78 | 74 |
| 11 | Staněk Tomáš | Czech Republic | JRT - Jack Russell Terrier | Goudí | | | 257 |
| 12 | Ajtai Veronika | Czech Republic | Shetland Sheepdog | Vivien | | | 293 |
| 13 | Pokorná Petra | Czech Republic | JRT - Jack Russell Terrier | Missi | | | 0 |
| 14 | Lebeda Michal | Czech Republic | Welsh Corgi Cardigan | Arthas Anny Nupachaki | | | 312 |
| 15 | Wojciechowska Katarzyna | Czech Republic | mix | Fela | | | 187 |
| 16 | Pokorná Petra | Czech Republic | Parson russell terier | Danci | | | 0 |
| 17 | Kracíková Vilemína | Czech Republic | Shipperke | Aero Alpha Nero (Žlůťa) | | | 9 |
| 18 | Plichtová Kateřina | Czech Republic | caniche | Cenzie Černý Křišťál | | | 27 |
| 19 | Hovořáčková Eliška | Czech Republic | Shetland Schäferhund | Dio Fred z Diouškova ráje (Oci) | | | 0 |
| 20 | Plichtová Kateřina | Czech Republic | Caniche | Xsara Top Narcis | | | 0 |